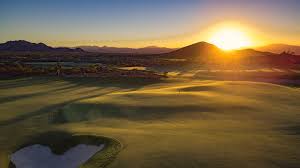 After working for over a decade for Tom Fazio, Tim Jackson opened his own West Coast design firm with David Kahn, another Fazio alum. Jackson Kahn Design is known for their creative, ambitious ideas about design–as exhibited at, Monterey Peninsula Country Club's Shore Course and The Other Course and The Bad Little Nine at Scottsdale National–and also for their decidedly artistic approach to client presentation and development with state-of-the-art graphics, renderings and animations.
Tim joins golf builder Jim Urbina and Derek Duncan to talk about:
–Tom Fazio's mandate to "make it playable and make it beautiful";
–The design motivation: "rich guys suck at golf";
–The advantage of being able to show clients realistic photo-renderings of proposed holes and renovations;
–The odd discomfort of working with a client without the normal constraints of a budget;
–Sand Hills vs. Shadow Creek;
–And creating one of golf's most outlandish courses, The Bad Little Nine at Scottsdale National.
Listen to Derek discuss the book "The Match" by Mark Frost in the Good-Good Golf Podcast Book Club edition.
Subscribe to Feed the Ball on Apple Podcasts, Spotify, Stitcher Radio and Google Play
Twitter: @feedtheball
Instagram: @feedtheball
The post Feed the Ball Salon Vol. 12, ft. Tim Jackson appeared first on Feed The Ball.